Summary
Bali is a tropical paradise that offers many exciting activities with some of the greatest views in the world. You will also find adventure at every turn. If you are visiting the island and looking for a popular excursion with a perfect mix of adrenaline, team bonding, and gorgeous scenery then you should whitewater raft the Telaga Waja River. Here are three reasons I chose whitewater rafting as one of the many adventures to add to my Bali Bucket List.
1. The Views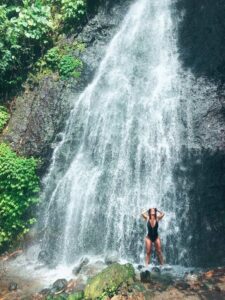 It is no secret that Bali is beautiful. The beaches, the volcanoes and rice paddies will take anyone's breath away. Bali also has beautiful rivers such as the Telaga Waja River, which is one of the longest rivers in east Bali. It runs 13km from the southern slope of Mount Abang.
During this two-hour ride through the river you will see lush green views that look like they are straight from a scene of Jurassic Park. The river wraps around green hills that are covered in palm trees that appear to touch the clouds. You will see cliffs, fields, tropical foliage and my favorite of them all, waterfalls.
Throughout the rafting ride you will pass by a handful of waterfalls both big and small. At one point the guides will bring you to the side of the river where you will take pictures next to a 50-foot waterfall. You don't want to miss these views and all the Instagram footage that is sure to make your friends back home have some serious FOMO.
2. The Bonding Experience
Nothing bonds you with your friends, co-workers or family like a life-threatening activity. Not to be dramatic but when you come roaring down the rapids and grabbing your boat mates for dear life, you feel a deep connection when you all come out alive. You are forced to work together and stay in-sync to conquer the rapids and navigate your way down the river.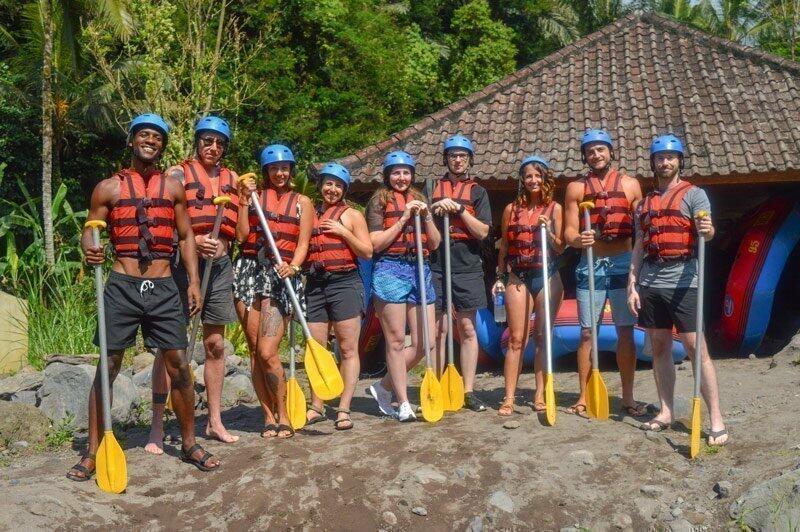 Not only does it take teamwork to keep your boat afloat but you will also make lifelong memories through great conversation and the laughs that occur after hearing the screams of your fellow passengers. Whitewater rafting is a great option if you are looking for a fun activity to do with your travel companions.
3. The Adrenaline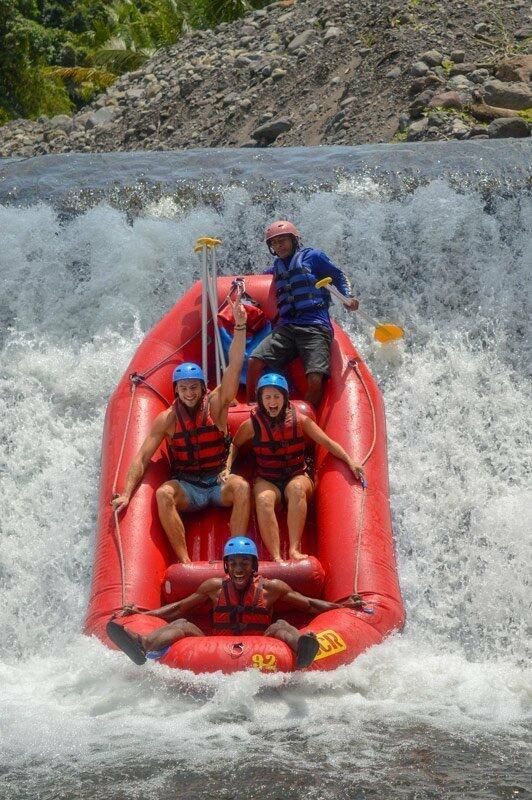 Now for the real reason people go whitewater rafting…the adrenaline! You are sure to get a rush of adrenaline as you navigate through the twists and turns of the river. All while trying to avoid getting stuck on a rock, capsizing or smacked in the face with a tree branch.
Whitewater rafting makes you feel alive and will keep you on your toes as you come roaring around the corners. Your heart will race every time you enter a rapid and free drop down the falls. The power of the water will have you shrieking with excitement and screaming for your mom at the same time.
The Telaga Waja River's difficulty level is between 3 and 4 depending on the season and is safe for beginners. Although beginners are welcome there are rapids as high as 5 meters. The rapids are sure to boost your adrenaline and fulfill your need for adventure.
Where to Go
Our team used Telaga Waja Bali Rafting Company. The rafting company picked us up from Canggu at 7:30 AM and drove us up the mountain to the drop point that is about two hours north of Canggu. You can choose your pickup from a list of locations that can be viewed here. The cost of the tour is 300 IDR per person and includes round-trip transfer from your hotel, insurance coverage and a buffet lunch at the end of your rafting adventure.
Rafting the Telaga Waja River is a perfect way to see breathtaking views and get a dose of adrenaline. Don't miss out on the opportunity. Book today!