The once little surf town of Canggu, South Bali, has become a popular spot for surf enthusiasts and thrill seekers. It's growth in popularity is due to the areas multiple waves, cool atmosphere and lively nightlife. The area has waves for all levels, plenty of surf schools and camps, but generally is considered best for intermediates.

Canggu is not just one surfing wave, but a five-kilometer stretch of beach breaks. From Berawa in the south, near Kuta, up to Pereneran in the north. All these waves are different and unique in their own way.
Here, at Extrevity, we've taken professional knowledge and local know-how to give you the ultimate surf guide of Canggu. From different breaks and technical information to food and accommodation, we've got it all covered.
Best Time of year to visit
The huge storms from the Indian Ocean mean Bali is perfectly placed to receive swells all year round. So it is more than likely that whenever you go, there will be waves. Read on to find out when the heaviest swells will be hitting the Indonesian Island and Canggu.
Bali has two seasons, dry and rainy. So choosing when to come is fairly straightforward for tourists. However, it is a little more technical for surfers. Different times of year bring different swells, tidal movements and winds to Canggu.
March-May
The end of March means the end of rainy season with the Nyepi and Ogoh Ogoh holidays throughout the country. Most of the surf is still on the East coast as westerly winds stop any good waves from hitting Canggu. However, there are occasional mid-to-large swells occurring. So although the winds are not ideal there can still be waves.
June-August
Strong offshore winds and bigger swells are common during the high-season in Canggu.
Canggu and the breaks on the Western coast of Bali have consistent large waves during this time of year.
September-November
Medium size swells and less powerful offshore winds. The waves are still consistent tourist crowds die down towards the end of September.
Occasional big swells can still happen during these months and hit the coast of Canggu.
December-February
During the rainy season, the winds blow from west to east, making it hard to find a clean break primarily in Canggu and surrounding areas on the West coast of Bali. Swells are smaller during this time of year, and the wind conditions are not favorable to Canggu.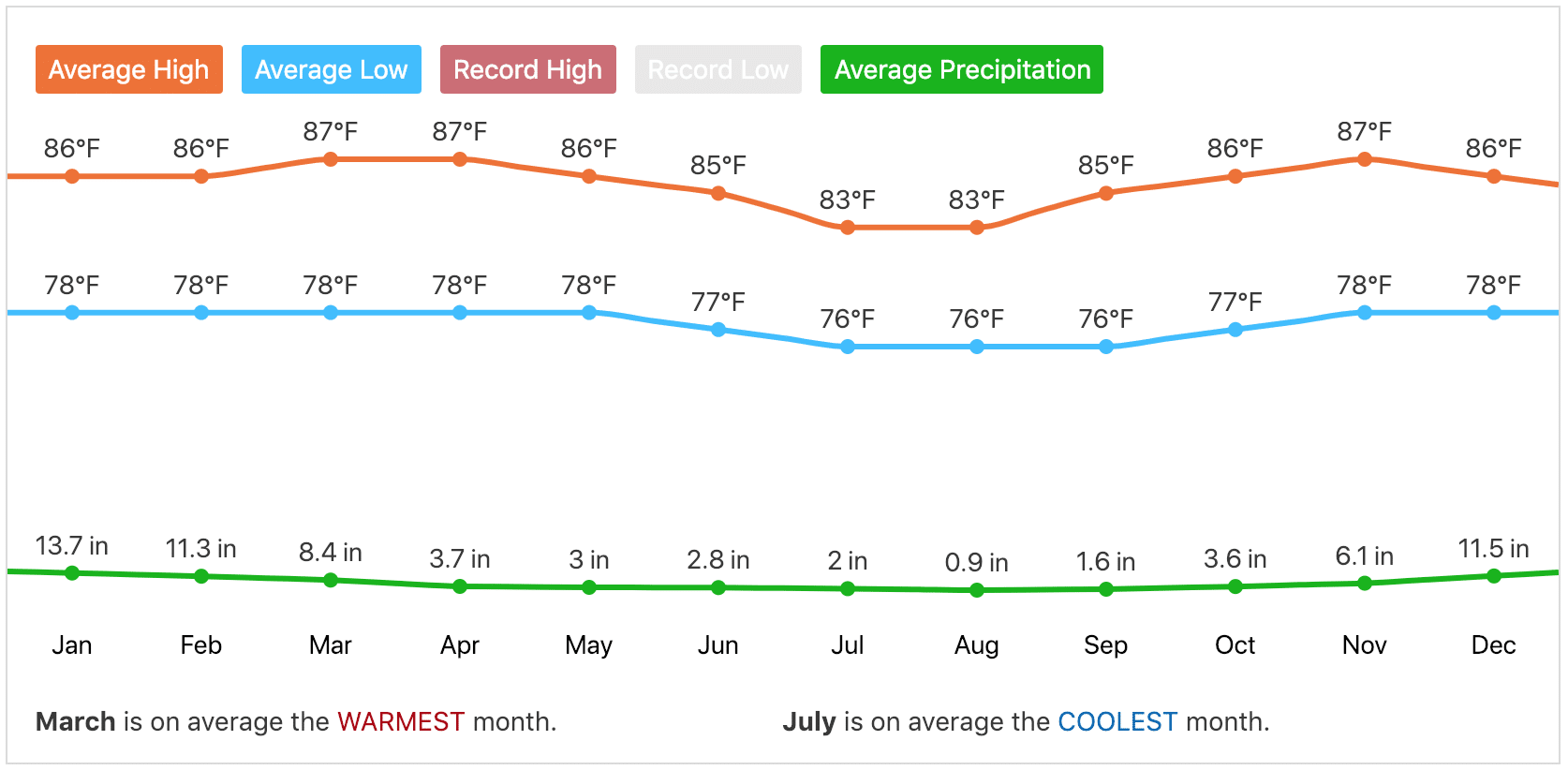 Canggu is a year-round surf spot, but there are periods of the year where the climate is more agreeable to those visiting. During the dry season, you can expect average temperatures of about 20-30 Celsius. Through the rainy period in the year, temperatures can rise with the humidity to around 35 degrees Celsius.
Wind is a crucial element when it comes to surfing. The ideal type of wind for waves is offshore, meaning the wind is blowing from inland out towards the ocean. Westerly blowing offshore winds grace Canggu during dry season between May-October. During rainy season the winds blow towards to east, meaning offshore winds will be on the East coast instead.
The Indian Ocean is a year-long swell machine. However, there are more suitable times to visit Canggu to ensure you have maximum chances for consistent swell. Between May and September, large storms in the Indian Ocean provide Canggu with regular swells, ensuring good quality waves.
The topography of the whole island is quite varied, as there are volcanoes, cliffs and lowlands all in a small area. However, the topography of Canggu and surrounding areas is fairly simple. It is pretty flat, especially when you compare it to places like Uluwatu which is very hilly. If you stay in the center of Canggu you won't find any hills when traveling to Batu Belong, Echo beach or Berawa.
The swells in Canggu are fairly consistent. The West coast of Bali is perfectly placed to receive year-round swells from the storms in the Indian ocean. For wind conditions, the best waves are usually mid to high tide, until mid-morning.
Longboarders will prefer the slow and mushy rights at Old Man's. Improvers or intermediates should try Berawa for a less crowded lineup and some nice dumpy rights. Echo beach is a well-known ledge and has been known to barrel, it's one of the fastest waves in the area. The intermediates enjoy the long left at Old Mans and the favorable conditions. (3-8 ft and northeast offshore wind) They are both on a reef but deep enough so you won't be cut up if you're surfing out the back. And a longer, slower ride in compared to the breaks at Echo and Berewa.
Bodyboarders will find Brewara or Echo a nice beach to surf, the fast dumpy ledge suits bodyboarding more so than Old Man's or Batu Belong. All the breaks can accommodate for bodyboarders, surfers and even SUP's, there are enough different types of waves to suit the different styles of wave sports. Berewa is a fast sand break with some flat rock bottom that occasionally barrels. The black sand has been known to move across so be aware the break could change mid-session.
Echo beach reef break is fast and short. The wave can hit a low-flat reef and can sometimes barrel, so you will find expert surfers prefer this break.
Mid to High tide is the best for this area in general. The reef becomes extremely shallow later in the day it is more than likely surfers will come into contact with it at some point. The waves out the back are still consistent, but low tide/ afternoon winds tend to mush everything up.
Canggu is mostly considered an intermediate area for surfing. Many breaks are suitable for beginners to learn,(white water waves re-breaking close to the beach). Out the back, the waves are larger, faster and more powerful. These waves are appropriate for surfers at an intermediate to advanced level. No break in Canggu is considered expert, so really advanced surfers may find the breaks a little easy. Generally an intermediate break, the conditions are wind and tide dependent.
The best time to surf is the early morning or at sunset. Mid to high tide is ideal before the winds come and turn glassy waves into sludge. The best time of year to come would be the beginning or end of dry season (June/October) when the waves are good and it is not too busy. For beginners at low tide, the wave at Batu Bolong and Old Man's will break right on the reef, so be careful.
Beginners –
The more beginner-friendly waves of Old Mans and Batu Belong have slow and gentle whitewater waves for first-timers. Here, you will find countless beginner surfers trying out the sport for the first time. The waves re-break for the second time near the beach and are gentle and small, perfect for learning. At low tide, the beginner waves break right onto the reef. The best time to go as a beginner is high to mid tide, early to late morning.
Intermediate –
The breaks at Echo beach, Kedungu and Berawa are perfect for intermediate surfers. Echo beach can barrel and is probably the fastest in the area. Old mans and Batu Bolong is also considered intermediate, but you have to paddle past hundreds of beginners to get out the back. Waves can get up to 10ft on larger days, and the break at Old Mans is a slow left with a long ride into the beach, intermediate longboarders prefer Old Mans.
Advanced –
Expert level surfers will find the breaks in Canggu relatively easy. Due to the winds and tides here, the waves are considered less reliable than places like Uluwatu. However, on large days waves can be as big as 10ft and Echo and Berewa has been known to barrel.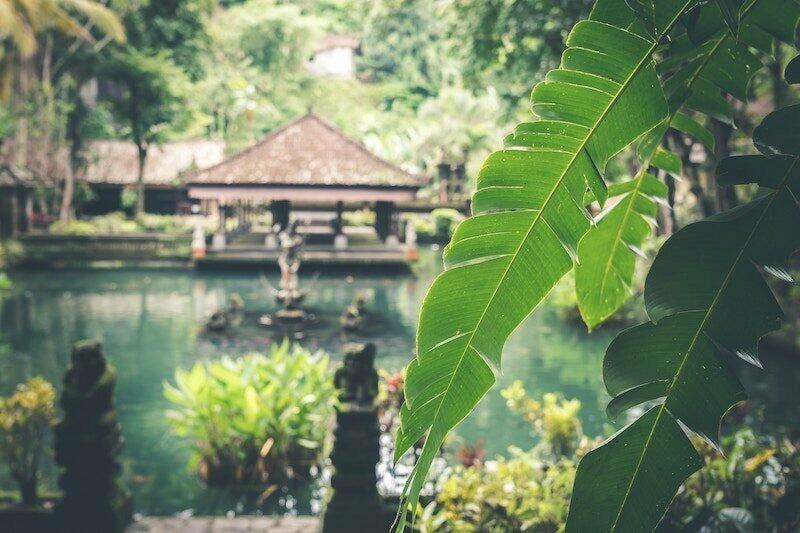 The attractive thing about surf accommodation is that they are run by surfers, for surfers. The staff will have everything you will need for your ultimate surf tip in Bali.
Being a popular surf destination, Canggu has multiple guest houses, hostels, and hotels that provide accommodation for surfers. These properties usually provide surf coaching and lessons, surf trips to break around Bali and high-quality boards to rent. It is also possible to stay in accommodation that is not centered around surfing.
Couch Surfing
Couch surfing is a great way to meet fellow surfers with a spare bed or couch that you can crash on. If you are considering a solo trip to Canggu, it would be a great way to meet like-minded people. It is very likely that you will meet people with shared interests, e.g., surfing!
Hostels
In the context of tourism, Canggu started as a surf town. The first accommodations catered for surfers traveling up from Uluwatu and Kuta to try out new waves. Guesthouses, hostels and bed, and breakfasts were all geared toward their primary clientele, surfers.
Canggu is not just popular for surfers anymore, as tourists, backpackers, and digital nomads make Canggu as must visit on their tour of Bali. The hostels in Canggu have evolved along with the town itself and the type of people that come now. However, Canggu is still a surf town at heart, and there are still surf hostels and accommodation who's main focus is accommodating surfers.
These types of hostels will provide surf rentals, board lockups, lessons and day trips to nearby waves. These places are also great to meet and share stories and tips with other surfers who know the local area. The surf guides at these hostels are locals, so maybe you can discover some secret waves along with way!
Airbnb
A great way to experience Canggu from a more independent setting. Renting an Airbnb allows you the freedom of an entire apartment, villa or house to yourself. Whilst still holding the benefits of a hotel like cleaning and fresh sheets every day. There are villa's and properties nearby the beaches of Batu Bolong, Echo beach and Berawa. Depending on budget Airbnb can provide some great accommodation to make your surf trip amazing.
Hotels
The Kirana hotel and spa is centrally located just next to Batu Bolong for great ease of access to the breaks at. They also have a surfboard lock-up, so you don't have to bring your wet board up to your room with you.
Luxury Resorts
Canggu has plenty of Luxury resorts that offer in-house surf guides, rentals, and lessons. The main type of luxury resort in the Canggu area is serviced villas. These come complete with a surf rack, pool, and staff to accommodate your stay.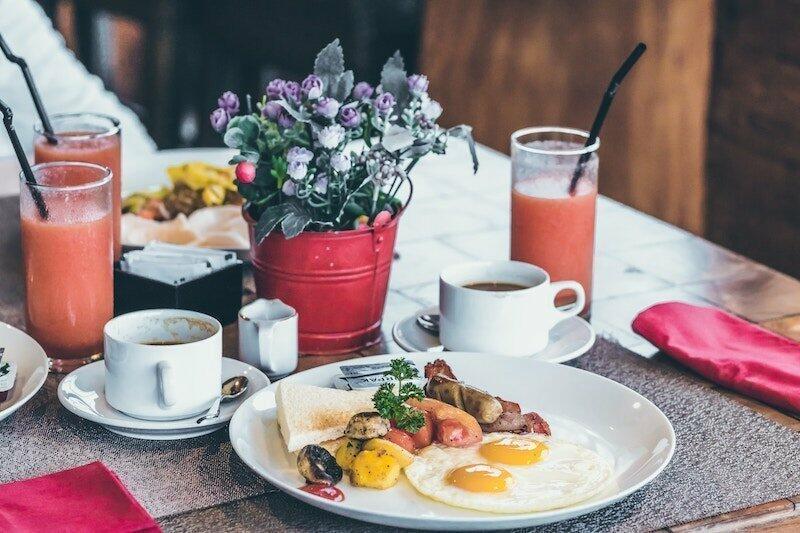 Canggu's popularity for surfing has seen a massive increase in restaurants and cafes on or near the beach. Fuelling you pre or post surf sesh can be challenging work with so many options in the area. Cafes and restaurants are popping up all over Canggu, with menu's specifically designed to give you maximum energy out in the water.
Cafe's
Smoother bowls, avo on toast and porridge are just some of the preferred breakfast in offer here.
The Loft, Crate and Mocha Cafe are all popular with surfers for a post-surf meal.
Island Beach Bar is just across from Old Man's and looks over the breaks, so it is perfectly placed for a pre or post surf meal.
Street Food
Around Canggu, look for a guy on a bike selling Bakso. This is a classic Balinese dish consisting of meatballs and noodles and is crazy cheap and very spicy. Other than Bakso, there is less of a street food vibe here. However, there are lots of 'warungs' (restaurants) selling local dishes such as nasi goreng and campur. Warung Bu Mi is right along Batu Belong and is one of the cheapest meal options in the whole of Canggu.
Quick Bites, -Fast Food
Sometimes you just need a quick fix, especially after a heavy surf. Pit Stop is a perfect mix of a fast food place crossed with a classy burger joint. Be prepared to wait and twenty minutes though, so it's not that quick. Bali Kebab is the quickest option around for instant food as the kebab is cooking all day, they just have to serve it.
Restaurants
Meat Lover? Vegetarian? Vegan? Canggu has every type of restaurant on offer so everyone will find something to their liking. La Baracca is an amazing Italian near echo beach. My Warung has a great breakfast deal on just up from Echo. Shady shack is the go-to vegetarian restaurant between Old Mans and Echo. Betelnut cafe is popular for Mexican style dishes just up from Batu Belong.
Looking to come to Bali for the ultimate surf trip? Stay away from the tourist trap of Kuta and come to Canggu instead.
If Canggu is your choice of destination, look no further for the complete guide. Here, we tell you how to get here and how to get around once on the island.
How to Get There
Located in Southeast Asia, Bali is a very popular destination for surfers and tourists. Not too many people know that Bali itself is not a country, but an island in Indonesia. Canggu is on the western coast of Bali, about an hour's drive from Denpasar Airport. If you are traveling from Europe or North America, then you'll have a stopover in either: Singapore, Kuala Lumpur or Jakarta before flying into Denpasar airport.
Car Rental
Serious surfers will know that their boards are most precious to them. If you manage to get them to Bali undamaged, then a car is the safest and best option to for your boards. There are plenty of car rentals companies at the airport. They even offer surf racks and straps to make sure your boards don't fly off!
Public Transportation
Bemos, a type of minivan used as public transport, is used in Bali but is not very popular.
Public transportation in and around Canggu and in Bali, in general, is not really used by surfers and tourists.
Scooters, Motorbikes and Car rental, with or without a driver is the preferred method of transport in Canggu. Canggu itself is a fairly small place, and scooter hire is very cheap, so the easiest option is to hire one for your whole trip.
Parking
Parking in Canggu is fairly easy and accessible. At Batu Bolong there is the main car park below Old Mans, which usually has space. If this is full, then there is parking up the road opposite Deus Ex Machina. Scooter parking is 2000rp, and car parking is 5000rp. Echo Beach is both walking distance from the Car Park at Old Man's, so this serves both breaks. Berawa has separate parking facilities located at Finns Beach club.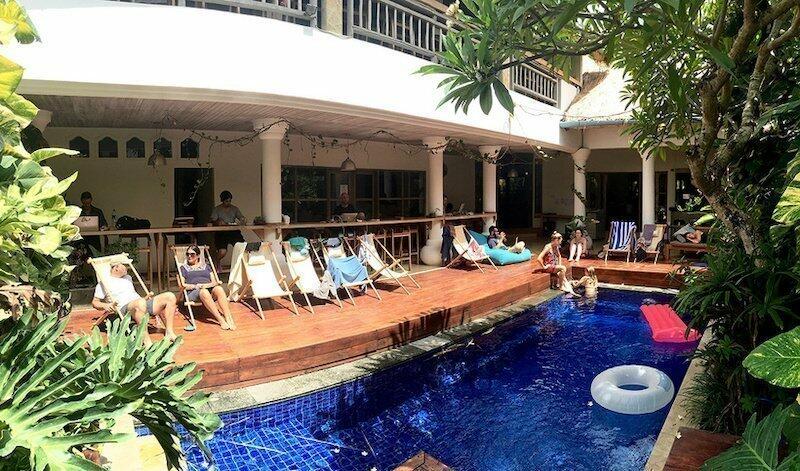 A new trend has hit Canggu in recent years. The traditional popularity of the town was centered around surfing. Canggu had consistent waves in a quiet setting, so surfers would flock here. Now a more modern industry has moved into the area. Digital nomads, remote workers, location-free employees, whatever you want to call them, they have arrived.
Co-Working Offices
CoWork Surf, a pla

ce for all digital nomads who surf, or all surfers who also work online. Either or, this coworking and coliving space combines surfing and remote work in a productive way. All residents are entitled to free surf hire, surf lessons and yoga classes every day.

Dojo Bali

, located just a few meters from Echo beach and probably the most popular on this list. They offer monthly memberships and host loads of social events. Beach and Beers on Fridays is our favorite! Dojo also offers co-living options nearby which are a great way to meet people. Lots of events, talks and skill shares are organized to maximize your time spent in Canggu.

Matra,

set on the top floor of rooms for rent. A gym and pool are included, along with a shared kitchen. The co-working space is the only one on this list that's free to use. The top floor even has a cafe and meeting room.

Outpost Canggu,

has only recently opened, so there are some good early membership deals. The coworking space is located in Berawa so is for useful for people living on that side of Canggu. The space itself is really big and has a loft atmosphere in which to work in.

Onsite,

a co-working and co-living space in Canggu that prides itself on productivity with a sociable side to it. Memberships are expensive, but remember this means accommodation is included and it is a great way to network and meet friends with similar interests.
Internet Cafes
District.

A public cafe downstairs and a co-working space upstairs. People can rent a space for an hour, a morning, a week or month. The internet is very good at the co-working itself is very sociable and has a good atmosphere.

Machinery.

A cafe with a great menu and even better wifi. It is not a coworking space, but it certainly feels like it, as everyone inside is on a laptop. Located right up from Batu Belong.

The Dual Cafe

A great, quiet cafe with a superb breakfast deal on and really nice staff. It is not too popular with people working online but the wifi is good, and it is fairly quiet during the day so is great if you work best in quiet situations.

Hungry Bird

Right up from Berawa beach, Hungry Bird is a coffee roaster, cafe, and restaurant. The wifi is fantastic, and there are always a few people working on laptops around the place
Wifi Spots
There is no public WiFi in Canggu, yet there are so many cafes and restaurants with a good connection that you won't be offline for too long.
Cassava has great wifi for those looking to do some work in a nice and chilled environment, it also has homestays and yoga classes along with its cafe and restaurant.
Average Internet Speed
It can support a big community of digital nomads, so it must be good enough and regular enough to support this. Generally, in Canggu, the internet is pretty good and consistent. Depending on your location in Canggu the signal may be strong or weak. The signal may be better or worse depending on how close you are to the beach. The signal sometimes gets lost near the water.
SIM Card Internet Options.
There are plenty of shops and sim card options in Canggu and around the nearby area. If wifi stops working, which does happen sometimes. A sim card is an excellent backup to stay online and stay connected. It is usual to see 10gb over a month for around 10$ in these shops.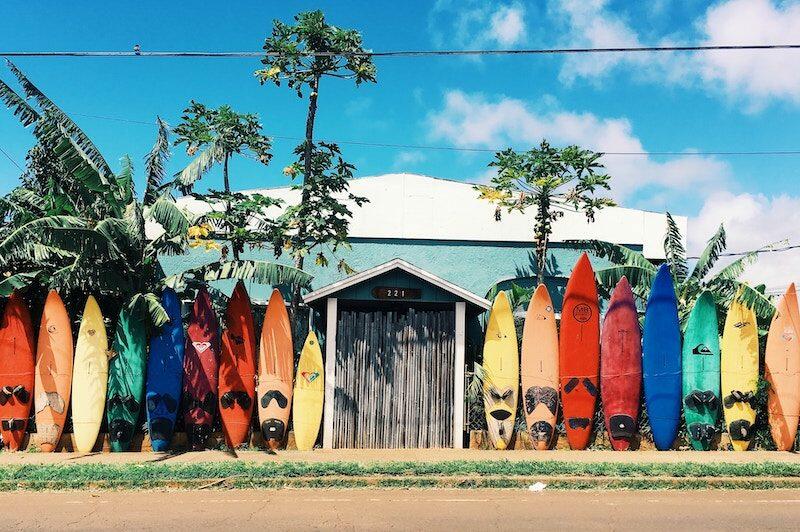 Canggu is a very popular place for surfers. It is also a trendy place for tourists looking for a beach holiday in Bali. These are the type of people who have not surfed before and will be trying for the first time in Canggu. So many beginner surfers mean lots of rental shops and surf schools across Echo Beach, Batu Belong and Berawa. The easiest beach to learn to surf is at Batu Belong as it is the smallest and most gentle wave.
Board Rentals
Beginner = big board for small waves
Expert = small board for big waves
Your choice of rental board will depend on your surfing ability. There are countless foamies/soft top boards on offer for beginners. These offer a stable base on which to learn how to stand and ride a wave. 50,00RR- for an hour.
The rental shops in Canggu also offer logs, single fins, short boards, and twin fins. There really is something for everyone and boards suited for all abilities.
Lessons
Lessons are usually between 1 and 2 hours long per session. Depending on whether this is your first lesson or you have had a few already, you will spend some time on the beach before getting in the water. An hour's lesson will cost you 350,000rp with an Instructor who will come in the water with you and make sure you catch your first wave!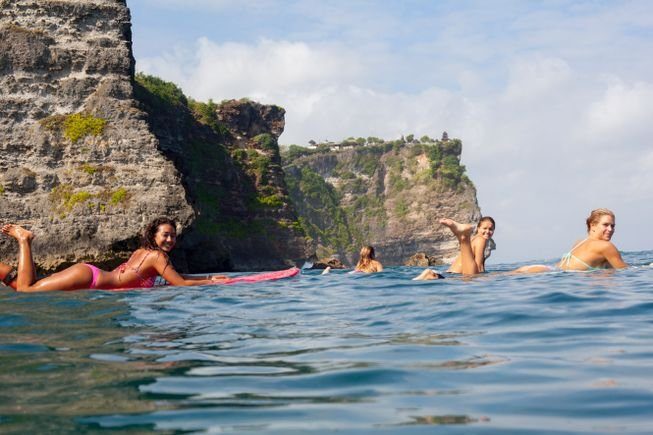 Canggu is in a good location in Bali, it is close to other breaks meaning the travel time will never be more than a few hours. A lot of surf schools organize day trips and packages to the waves at Uluwatu's Padang Padang beach. The journey from Canggu to Uluwatu should take no longer than 1 hour and a half. Many surf schools in Canggu offer daily Surf Trips to Nusa Lembongan and the Mentawai islands. However, as these breaks are on different islands, the trips are longer.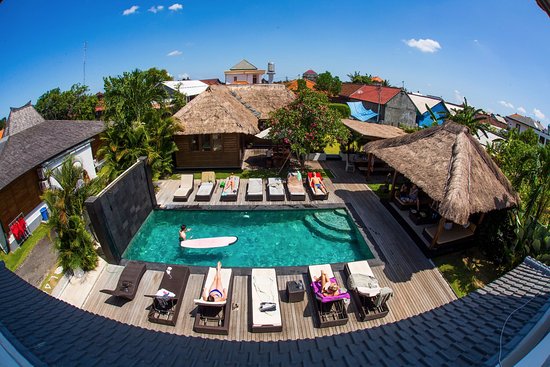 Those looking to improve their surfing abilities really should consider a week/ two-week surf camp. These are specifically designed to enhance your surfing regardless of your level when you arrive. A lot of surf camps include lots of extra activities like yoga, day trips to Ubud, temples and cultural sites. Free amenities like bike hire and family meals are included in the whole package price.
Mojo Surf is

a surf camp in Canggu that have 2, 3 4 and 5-day packages. These include accommodation, surf lessons and rental, along with food and activities like yoga and day trips.

Kima Surf

provides plenty of perks including two surf sessions per day, video feedback and free yoga and bike rental. The video feedback focuses on positioning wave management.